Mississippi Inventors of LockerBones Strike Deal on ABC's Shark Tank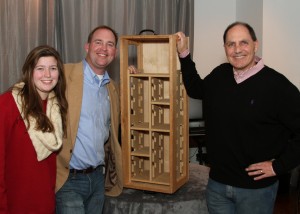 On January 17th, 2014 at 8 PM CST, Mississippi company FMD Organizers took its patented flagship product, LockerBones, on ABC's critically acclaimed series, Shark Tank, and struck a deal with investors (Sharks) Robert Herjavec and Lori Greiner for capital and guidance. The first prototype of this unique locker shelf system was conceived as a father and daughter project and is now in use in multiple schools by hundreds of students in Mississippi.
Jackson, MS (PRWEB) January 21, 2014
On Friday January 17th, at 8 PM CST Mississippi's LockerBones business team Greg Cronin (Inventor) and Dr. Stephen Coachys (Operations) were able to watch their visit to ABC's Shark Tank air for the first time. After taping in September of 2013, the owners were sworn to secrecy regarding the outcome.
At the premiere party, hosted by their website and marketing partner Think Webstore in Ridgeland, Mississippi, family, friends, dignitaries, and media were able to witness the reveal in real-time. The duo struck a deal with Sharks for 50% of their company for $175,000. Local ABC affiliate WAPT was there to film the event, which aired in news segments on Friday and Saturday.
Says Coachys, the partner responsible for getting the team on Shark Tank, "Fifty percent is high, but we make up for it with a much bigger pie. Robert and Lori (the sharks) have connections and the ability to finance growth now." An immediate start is a huge competitive advantage , which is financially beneficial for the LockerBones product.
Each episode of Shark Tank that airs represents an intense and extremely competitive process. Tens of thousands of applications are received by the show and only about 100 get to be taped. Of those, only a select group gets to air. All along the way the participants are sworn to secrecy so as not to spoil the airing. Even as the audience at the premiere party watched in anticipation and studied Cronin and Coachys for clues, the owners had to remain composed and give nothing away.
The night of the Shark Tank premiere, during airing, the LockerBones.com website was flooded with interested viewers wanting to see more. Think Webstore provisioned a dedicated server just for the event. Says Bryan Carter, Think Webstore owner, "We set up a 'monster' server. The next level up would be server cluster with distributed traffic like you see on sites such as Amazon, eBay, and Google." Even so, the server maxed out during the show as thousands hit the server. "We had nearly one million hits and served six gigabytes of page data." Orders are coming from individuals as well as schools that want to sell the product to students using the LockerBones fundraising program. So far, the Sharks seem happy with the response.
Even before the show aired, sharks were already moving on molding options for a colored plastic production version of the shelves. Says Coachys, "We have been in regular touch with the sharks since the episode was taped and the deal was struck. Everything is moving forward."
Greg Cronin originally designed the LockerBones product for, and ultimately with, his daughter Ashley Cronin. Ashley very much wanted locker shelves for her first day of school. It was something very popular with her friends. So, the locker set served more than a utilitarian function. After ideas raced through his head, father Greg Cronin spent the night making the first wooden prototype. Ashley became confident of the "cool" factor after gaining the attention, and requests for their own sets, from her friends.
Cronin began building locker sets for his daughter's friends; then others at the school; then for other schools. Before Cronin knew it, LockerBones had taken on a life of its own. Dr. Stephen Coachys was one of the parents of a child wanting a set. Today Coachys is a business partner.
Says Cronin, "I could not be more happy. We got the product this far as a labor of love. Working with the Sharks allows us to quickly share this product nationally. LockerBones is designed and proven to save time and stress for students, administrators, and parents. It is a win for everyone involved."
This Mississippi company seems geared for success. They have struck the simple equation of Great Product + Capital + Distribution, and their hopes are to continue to strike it big.
The LockerBones website is taking orders 24/7 at http://www.lockerbones.com. They can also be found on Facebook and YouTube.
The Shark Tank Season 5 Episode 14 featuring Lockerbones can be seen online on ABC.com or on YouTube:
https://www.youtube.com/watch?v=-zpqs9CMpR0.
Based in Clinton Mississippi, FMD Organizers is the inventor and patent holder for LockerBones. For more information on LockerBones visit their website at http://www.lockerbones.com and find them on Facebook and YouTube.
Located in Ridgeland, Mississippi, Think Webstore is an award winning full service marketing and media company, offering marketing strategy, website design and development, social marketing, public relations, online relationship management, search engine optimization, logo design, branding, print design, and broadcast production. Think Webstore clients range from billion dollar corporations to local businesses. For more information on how your company can take advantage of Think Webstore's expertise visit http://thinkwebstore.com