Mississippi Inventors of LockerBones in the Shark Tank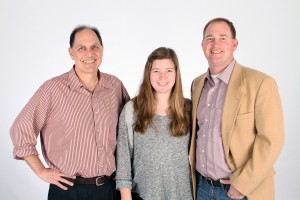 On January 17th, 2014 at 8:00 PM, Mississippi company FMD Organizers takes patented flagship product, LockerBones, on ABC's critically acclaimed series, Shark Tank, to try to win a deal with the potential investors (sharks) for capital and guidance. The first prototype of this unique locker shelf system was conceived as a father and daughter project and is now in use in several schools by hundreds of students in Mississippi. One evening before the first day at a new school, Ashley, the daughter of Greg Cronin, a serial entrepreneur, came to him with "locker concerns." Like many young students, she was concerned about classes, school, friends, and yes, her locker. She was wanting a cool organizer, a popular must-have item among her friends.
Some plywood, a dado blade, and an all night project later, the first LockerBones prototype was created. LockerBones are simple, easy to setup, customizable shelf storage systems designed to fit multiple sizes of lockers. Cronin's daughter immediately became the envy of her newly met friends for her unique wooden system. Before he knew it, Cronin was making units in his garage to fill orders as favors to his daughter's friends, and then to meet the growing popularity of the product.
Cronin and his daughter spent months perfecting their prototypes and began selling to schools. After two school years, the product was considered field tested and student approved, and Greg found himself overwhelmed with orders for half a dozen schools in the Jackson, Mississippi vicinity.
Says Cronin, "Kids love to organize their own space. LockerBones provide a method for less stress, less mess, and a tool for organizing. The business began to take on a life of its own."
Cronin was consistently receiving positive feedback from kids, parents, and school administrators alike. Mrs. Lisa Harmon has a son in the Jackson, Mississippi area. Her son was entering the seventh grade, the first year where he was required to have his own locker. Says Harmon, "This was the grade where my child was to begin quickly switching between classes and becoming more independent. As with many parents, we were concerned with the pressures of new responsibility, time, and organization. We saw the LockerBones setup and thought 'perfect.' LockerBones helped him switch between sets of books and move between classes easier. It not only made it easier on him, it helped me worry less about his day at school. It is a tool for school, and it works." Says Lynda Morse, a learning facilitator for a private school in Ridgeland, Mississippi, of her school before they discovered LockerBones, "We struggled to help children organize their lockers so they did not become a dumping ground." Morse says teachers, parents and students absolutely love the LockerBones products. "[LockerBones] help to reduce the stress on the student. [Students] know where their assignments are. [Students] can grab and go. It cuts down on time in the locker area. [Students] are able to get to class on time."
Today, LockerBones is the premier patented product for FMD Organizers (FMD representing For My Daughter / From My Dad) and there are hundreds of kids using them in Cronin's hometown area of Jackson, Mississippi. The LockerBones team brought in Mississippi based marketing agency Think Webstore to establish their online presence to simplify their orders and payments and the acceleration continued.
After seeing the potential for growth, partner Steve Coachys began to think of ways to take their business to the next level. Coachys submitted an application to Shark Tank with outside hopes of a dream chance to go on the show to find investment capital and influential business partners.
The Shark Tank is a critically-acclaimed, business-oriented ABC series where investors (sharks) interview business owners seeking capital and guidance through partnerships. The one big rule of the show — you must make the deal in real-time on the show or there is no deal.
To their delight, Owners Greg Cronin and Dr. Steve Coachys were invited to present their product on Shark Tank in hopes of making a deal. The two owners travelled to Sony Studios in Burbank, California in September of 2013 to get their shot with the sharks. There are typically tens of thousands that submit their application to be on Shark Tank and only about 100 that are selected to be recorded. And, just because a show is recorded does not ensure that it airs. Says Coachys, "Every step of the way you are in competition with other potential candidates." LockerBones has now officially been chosen to air on ABC at 8:00 PM on the Friday January 17th episode.
Will Mississippi invention be able to stand up to the notorious scrutiny of the sharks? Will Mississippi's LockerBones owners make a deal with one or more of the sharks: billionaire Mark Cuban, owner and chairman of AXS TV and outspoken owner of the 2011 NBA championship Dallas Mavericks; real estate mogul Barbara Corcoran; "Queen of QVC" Lori Greiner; technology innovator Robert Herjavec; fashion and branding expert Daymond John; or venture capitalist Kevin O'Leary? You will have to tune in to see! Everyone involved has been sworn to secrecy!
The Shark Tank episode featuring LockerBones is scheduled to air on ABC at 8:00 PM Central Time on Friday January 17th.
For more information on LockerBones visit their website at http://www.lockerbones.com.
Located in Ridgeland, Mississippi, Think Webstore is an award winning full service marketing and media company, offering marketing strategy, website design and development, social marketing, public relations, online relationship management, search engine optimization, logo design, branding, print design, and broadcast production. Think Webstore clients range from billion dollar corporations to local businesses. For more information on how your company can take advantage of Think Webstore's expertise visit thinkwebstore.com.