Georgia Blue Restaurant
New Year, New Focus, New Food for Madison Georgia Blue Restaurant
After becoming known for serving great food in a warm, friendly family environment, Georgia Blue has decided to up the stakes. With a new year and new ideas, the Georgia Blue restaurant in Colony Crossing in Madison is embracing the new while keeping its familiar favorites around. Owner Jason Ishee said the new approach is sure to make existing customers happy, and bring new fans in the door.
Georgia Blue Restaurant: Steaking Out New Turf
With the addition of a dining and party room late in 2011, the Georgia Blue restaurant has used the new year to turn its focus on that one premium item that every restaurant must do well—steak.
"We're proud of our stockyard angus," Ishee said. "We've been serving it from the outset, and it's become a signature dish for us. This is premium, aged beef that we hand cut to order in the restaurant. We serve delicious filet mignon and two types of rib : bone in and boneless."
The steaks are served with homemade garlic mashed potatoes and a choice of veggies or salad. Ishee said he will proudly put the steaks up against any in the area. "If you try our steaks once, I guarantee you will be back," he said.
The Georgia Blue restaurant has also used the delicious steaks and the new gathering room to help cultivate a true steakhouse feel. The lights, the rustic tables and the bar lend the room the intimate ambiance of a special place where good food is eaten and good memories are made.
"Waiter, There's A Gator On My Plate!"
While Georgia Blue remains true to its brand and its mission with delicious steaks and other familiar menu items, there's also a hint of newness in the air. New recipes, new twists, and new approaches to some surprising ingredients.
It's a culinary viewpoint that is placing new items in front of Georgia Blue customers. New items like alligator, turnip bites and fried tamales.
Ishee puts it this way: "We don't try to challenge our diners' palates, but we do try to find new and interesting ways to bring the familiar to them."
Alligator Tail With Linguine-The alligator tail is sliced and gently pounded flat, then breaded and sautéed in butter. Linguine is then tossed in a lemon demi-glace with capers, mushrooms and tomatoes. The pasta serves as a bed for the light and tasty alligator, which is served on top.
Softshell Crab Au Gratin-A rich, creamy au gratin is made from potatoes, cream, Gorganzola, Parmesan, cheddar and Monterey Jack. After it is baked in a cast-iron skillet that Ishee ordered just for this dish, the au gratin is served in the same skillet and topped with a lightly breaded softshell crab.
Turnip Bites-This appetizer is a snacky take on a Southern staple. Turnip greens are mixed with cheese and cornmeal and then fried hush puppy-style. The tasty tidbit is then served with another Georgia Blue original item—honey rémoulade.
Feed Your Kids! Feed Your Wife!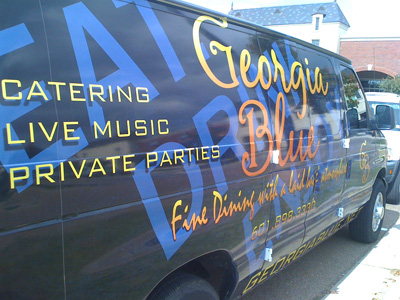 There is no one way to the Georgia Blue experience. Families, friends, kids and grandparents all have come to enjoy the atmosphere and food of the Georgia Blue restaurant. Whether it's a tempting steak or a new menu item like alligator, when you come to Georgia Blue, you will find a place where you feel at home. Ishee said it's all part of giving back to a community that's given so much to Georgia Blue.
"We've been so blessed," he said. "And we just want to say 'thank you' and keep inventing new ways to keep our customers coming back."
Georgia Blue is located in Colony Crossing Shopping Center in Madison. The Georgia Blue restaurant is open 11 a.m.-10 p.m. Sun-Wed, and 11 a.m.- midnight. Thu-Sat.
To place a catering order or to reserve the Banquet Room, visit www.georgiablue.net or call them at (601) 898-3330. Visit them on Facebook for blue-plate specials and other event updates.